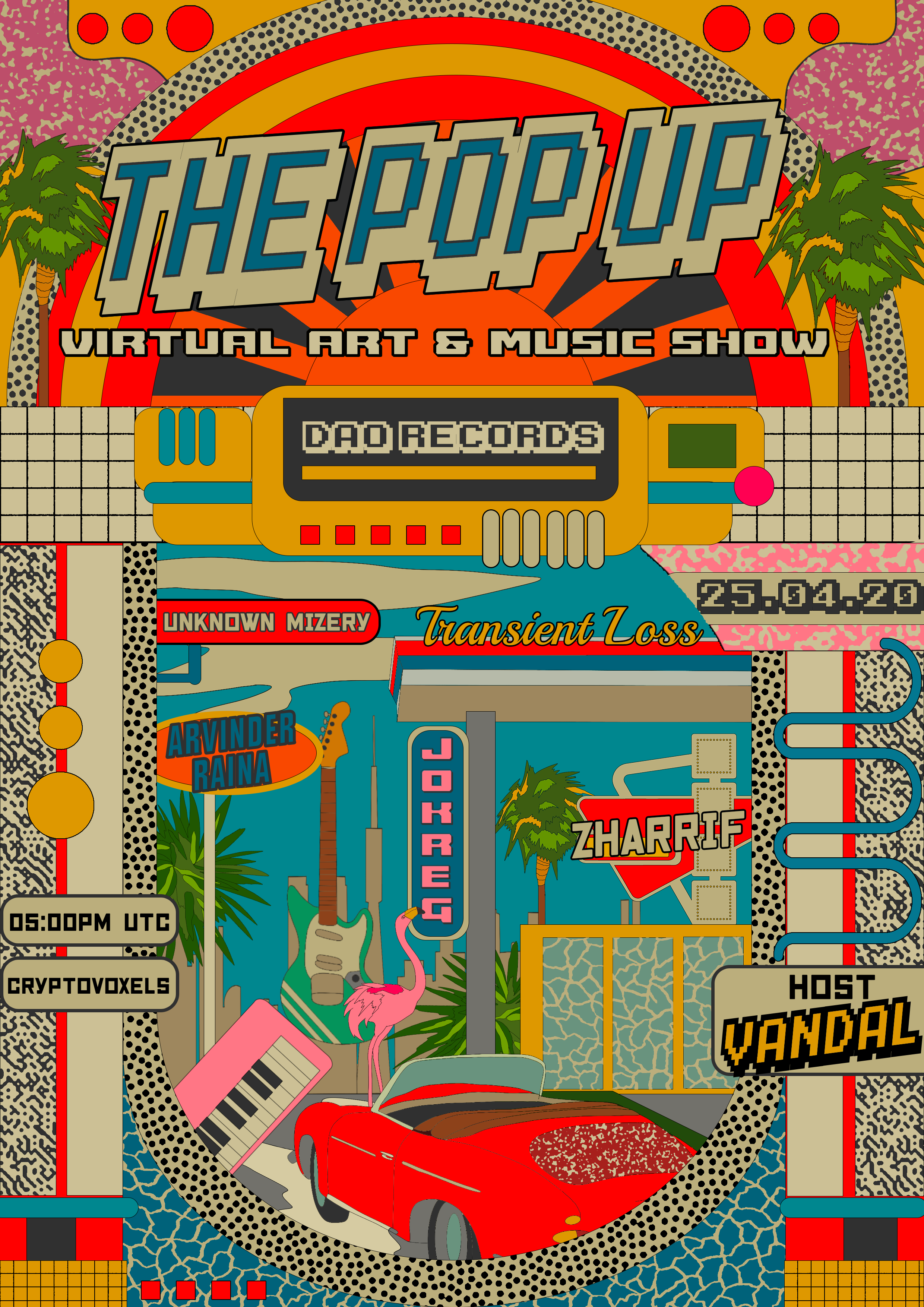 ---
The Popup Vol 1
25th April 2020
5PM-UTC [10AM in LA – 1PM in NYC – 1AM in HK]
MintBase HQ [Cryptovoxels]
---
Artwork by
Twisted Vacancy
Featuring
Arvinder Raina, Zhariff, Unknown Mizery, Jokreg & Transient Loss
Hosted by
Vandal
---
Join us for the first ever Popup Art & Music show this 25th April. The show will kick off at 5PM-UTC and will be a "live" broadcast inside Cryptovoxels by Vandal who will play each of the 5 songs and offer some commentary. The show will last roughly 30 minutes so make sure to be on time!
If you missed it check the podcast and read the interviews with the artists below
Interview Zone
What famous artist, dead or alive, would you want to paint your portrait?
I really want to see myself re-imagined by Kazuma Kaneko, i think it would be really interesting to see myself reinterpreted by him.
What was the first thing you ever tried to draw as a kid?
I remember i always created lots of drawing of Goku for dragon ball series. my school books is always full of it. i rarely working on tasks from my teacher tho. lol
If you could be any animal, which one would it be?
I always want to be a Capybara. chill to the max hahahaha
---
What was the first instrument you learned to play?
The first instrument i learned to play was the harmonium.
If you could collaborate with someone, who would it be?
If i could, I would love to do a collaboration with Latta Mangeshkar as she is a living legend.
If you could go back in time, what year would you visit and why?
I would have loved to go back to the year 1999 as I had the most amount of projects at that period of time.
---
How would you describe CyberPunk?
My short answer always is: Cyberpunk is now, we're already living in a cyberpunk world even if not entirely like the one we can see in cyberpunk culture, but there's still time to reach that point I guess. Cyberpunk is a subculture genre (primarily literature, but then visual art, film, video-games etc.) which tried to focus on some sort of futuristic nets (neural or not, but highly developed and powerful nets which involved almost everything) man/machine relationship and hybridization (cyborgs, body augmentations, brain interfaces, for example), AIs, huge corporations ruling the world while governments progressively fail and disappear (military corporations, biotech corporations, criminal syndicates etc) and of course some sort of rebellion against that. That's the "cyber + the punk" if you will. From a social perspective, I think "high tech, low life" is the best way to describe how common people live. The element of "verticality" is also very important, the huge cities of the cyberpunk future are developed in height, so you see skyscrapers, mega-buildings strongly divided between rich and poor districts. I fell in love with this genre as a child, but I always thought it would be best if it won't became the "real future", you know.
If you could be anywhere right now, where would it be?
I'm crazy enough that I have two dreams in this sense: living in a small but cool apartment in a mega-skyscraper in a mega-metropolis (let's say Los Angeles or Tokyo for example) where I could live a almost completely virtual life or a solitary cabin in the Nordic forests where to really living is strict contact with nature. Like a cozy wooden home in Canada or Sweden, near a lake maybe (I also love wildlife, btw). Yeah, this reflects also what I constantly feel inside my mind especially during these times. I really feel like my life is a everyday struggle between my love for nature and my passion about technology.
If it were possible, would you live on the moon?
Well, why not? 🙂 Would be great I guess! A glassy home on the moon. I'm just worried about the fact that If I could live on the moon, probably everybody could do that too so it would get a little over-crowded on there! Best thing, though, would be going outside for a moonwalk at low gravity while listening to some cool cyberpunk music. That would be awesome!
---
What was the first Hip Hop song you learned the lyrics to?
Ice Ice Baby, New Jack Hustler & Gangsta Paradise
Which producer is on your wish-list to work with?
Dre and Timberland
If you could start a collection of one kind of item, what would it be?
Divine cosmic manuscripts
---
Do you remember the first rap you ever wrote?
Yes I remember the moment, however I don't remember the bars. I was in grade 4 and I liked this girl named Melanie. I bought her a pack of ketchup chips, which was super balling for a grade 4 kid, even sneaking to the store at lunch off school property was kind of thugging for a kid my age haha. I accompanied that bag of ketchup chips with a written rap which I wrote about her.. I recited this for her at lunch and my friend Earl also wrote a rap for her which he recited for her during the same lunch period. She listened to both of our raps and she chose to kiss Earl.. I lost, however when I bought her chips, I also bought myself chips and I ate the entire bag st lunch while crying. Hahaha. That was my first rap.
If you could battle anyone, who would you battle?
Papoose, I would battle papoose. The reason I would make that decision is because Pap is a lyricist, it would be a great challenge, he would most likely crush me unless I trained for the battle.. this is something I love, the challenge. During my street battle days, I never used to like battling emcees I know I could beat… this habit of training through the trenches came from my experience with having random rap battle drills where me and a fellow friend/emcee KDB would go bar for bar, without holding back…this was all training.. so yes, Papoose!!! Let's get it !
Last thing you bought?
I splurged and bought 2 things at one go…an electric guitar and a new Aston Stealth studio microphone.
---
If you could play a gig anywhere, where would it be?
We've got a few venues in mind that would be the absolute dream to play at! Like Wembley or The Royal Albert Hall in the UK, Budokan in Japan, Wacken Fest and Rock am Ring in Germany. I think we would actually cry if we got invited to play at these venues.
If you could add another member to the band, what instrument would they play?
We've got a lot of electronic, video game sounding stuff going on in our music and at the moment we perform with a backing track that is sent to the Front of House and a click track going to Rakin's headphones to keep us all in time. It would be pretty killer if we had a keyboardist or a sampler / controllerist in the band that perform these parts live. Would definitely add to the whole live experience.
If someone wrote a biography about you, what do you think the title should be?
That's a pretty interesting question! Here are some that the band came up with: "Lost Consciousness: The Transient Loss Story", "Total Black Out", and "Transient Loss: How to Mosh to Videogame music 101".
---
See you this Saturday!